Aero Acres has a paved runway----a 3150' X 50' with and a parallel
3150' X 100' grass taxiway. The runway has pilot controlled runway lights, PAPI, & rotating beacon. There is a paved turnaround pad on the south side at the west end of the runway. The runway is 10 / 28
Four clicks on 122.9 to get AWOS & Five clicks for runway lights.   Windsocks are located along the north side of the grass taxiway. Lights are controlled on the unicom frequency of 122.9. 
Caution: Watch for Sandhill Cranes on the runway and taxiways.
Note:  Aero Acre airpark navaids are supportive for daytime VFR conditions only and should not be depended on for nighttime or low visibility operations.
Paved Runway 28 looking West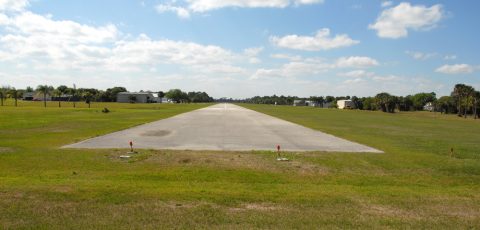 Paved Runway 10 Looking East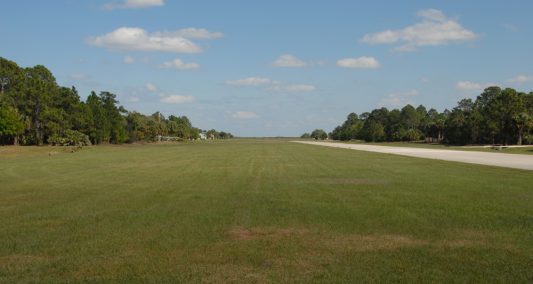 FAA INFORMATION EFFECTIVE 10 JANUARY 2013
Location
FAA Identifier: 

FD88

Lat/Long: 

27-20-31.1530N / 080-31-19.1960W
27-20.519217N / 080-31.319933W
27.3419869 / -80.5219989
(estimated)

Elevation: 

25 ft. / 8 m (estimated)

Variation: 

03W (1985)

From city: 

11 miles SW of FORT PIERCE, FL

Time zone: 

UTC -5 (UTC -4 during Daylight Saving Time)

Zip code: 

34987
Airport Operations
| | |
| --- | --- |
| Airport use:  | Private use. Permission required prior to landing |
| Activation date:  | 02/1990 |
| Sectional chart:  | |
| Control tower:  | NO |
| ARTCC:  | MIAMI CENTER |
| FSS:  | MIAMI FLIGHT SERVICE STATION |
| Attendance:  | UNATENDED |
| Wind indicator:  | LIGHTED |
| Segmented circle:  | NO |
| Lights:  | FOR MIRL RY 09/27 5 CLICKS ON 122.9. |
Airport Communications
| | |
| --- | --- |
| WX AWOS at FD88    4 clicks on 122.9 |   |
| | |
| --- | --- |
| WX ATIS at FPR (12 nm NE):  | PHONE 772-489-4281 |
| WX AWOS-3 at OBE (18 nm W):  | 118.675 (863-467-1148) |
| WX AWOS-3 at SUA (19 nm SE):  | PHONE 772-692-7399 |
| WX ASOS at VRB (20 nm N):  | PHONE 772-978-9535 |
Nearby radio navigation aids
| | | | | | | |
| --- | --- | --- | --- | --- | --- | --- |
| VOR radial/distance |    | VOR name |    | Freq |    | Var |
| TRVr192/20.3 |   | TREASURE VORTAC |   | 117.30 |   | 07W |
| PHKr015/34.8 |   | PAHOKEE VORTAC |   | 115.40 |   | 00E |
NDB name

  

Hdg/Dist

  

Freq

  

Var

  

ID

 

229/11.8

 

275

 

07W

 

FPR

 ..-. .--. .-.

 

200/20.1

 

392

 

04W

 

VEP

 ...- . .--.

 

342/27.8

 

405

 

03W

 

UTX

 ..- - -..-
Airport Services
Runway Information
Runway 9/27
Dimensions: 

3150 x 50 ft. / 960 x 15 m

Surface: 

Asphalt

Runway edge lights: 

medium intensity

 

RUNWAY 10

  

RUNWAY 28

Traffic pattern: 

left

 

left

Displaced threshold: 

300 ft.

 

300 ft.

Obstructions: 

50 ft. trees, 450 ft. from runway

 

none
Airport Ownership and Management from official FAA records
Ownership: 

Privately-owned

Owner: 

AERO ACRES PROPERTY OWNERS
18607 MACH ONE DRIVE
PORT ST LUCIE, FL 34988

Manager: 

Robert (Bob) Di Giovanni
18607 MACH ONE DRIVE
PORT ST LUCIE, FL 34988
Phone 508-944-7029
Airport Operational Statistics
| | | |
| --- | --- | --- |
| Aircraft based on the field: |   | 26 |
| Single engine airplanes: |   | 20 |
| Multi engine airplanes: |   | 6 |
| Helicopters: |   | 2 |
| Ultralights: |   | 0 |
Additional Remarks
BIRDS ON RUNWAY
Instrument Procedures
There are no published instrument procedures at FD88.
Some nearby airports with instrument procedures:
KFPR - St Lucie County International Airport (12 nm NE)
KOBE - Okeechobee County Airport (18 nm W)
KSUA - Witham Field Airport (19 nm SE)
KVRB - Vero Beach Municipal Airport (20 nm N)
06FA - William P Gwinn Airport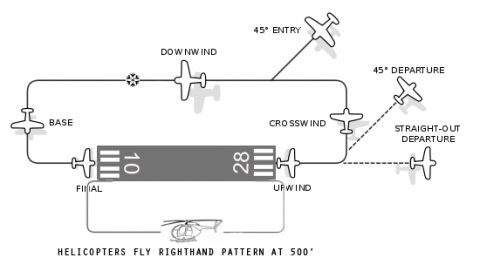 Enter pattern in level flight, abeam the midpoint of the runway, at pattern altitude. (1,000' AGL is rcmmmended pattern altitude unless established otherwise . . .)
Maintain pattern altitude until abeam approach end of the landing runway on downwind leg.
Complete turn to final at least 1/4 mile from the runway.
Continue straight ahead until beyond departure end of runway.
If remaining in the traffic pattern, commence turn to crosswind leg beyond the departure end of the runway within 300 feet of pattern altitude.
If departing the traffic pattern, continue straight out, or exit with a 45 degree turn (to the left when in a left−hand traffic pattern; to the right when in a right−hand traffic pattern) beyond the departure end of the runway, after reaching pattern altitude.
Do not overshoot final or continue on a track which will penetrate the final approach of the parallel runway.
Do not continue on a track which will penetrate the departure path of the parallel runway.
Aero Acres - Private Airport
Air Operational Rules and Regulations
Updated April 2023
AIR OPERATIONS COMMITTEE
Taxiway and/or Runway Guidelines
By operating any vehicle, whether that be airplane, helicopter, gyroplane, automobile, bicycle, golf-cart, all-terrain or the like on any taxiway and/or runway, the operator agrees to accept all liability associated with such use and does hereby agree to abide by these taxiway and/or runway guidelines.
Aircraft have the right-of-way AT ALL TIMES.  All other traffic must yield to aircraft.
Any vehicle, prior to crossing a taxiway and/or runway, is advised to cross at 90 after coming to a complete stop and checking for aircraft movement both on the ground and in the sky prior to crossing.Note:  for safety reasons, crossing the paved runway in any vehicle is strongly discouraged.  It is highly recommended that vehicles travel around the ends of the runway, staying off the pavement unless the situation is emergent.
It is recommended that all aircraft and all vehicles operating on any taxiway and/or runway have and use a radio tuned to 122.9 and announce their intentions using proper phraseology.
Be advised that PAPI, signage, airport lighting, SayWeather automated advisories and runway markings are advisory only. Pilots operate at their discretion and assume all risks associated therewith.
With regard to any/all aircraft operation:

It is the PILOT's responsibility to always operate the aircraft in a safe manner, taking into consideration all relevant factors including, but not limited to, ground conditions, weather conditions, trees and landscaping, other aircraft and any other factors that may impact an aircraft at a particular time, place and date. Each pilot operates at their discretion and assume all risks associated therewith.
Flying practices shall be consistent with and not in violation of Federal Aviation Administration (FAA) rules and regulations. [CFR Title 14, Ch I, Subchapter F, Part 91] Procedures recommended in the FAA Advisory Circulars and Aeronautical Information manual (AIM) should be used.
All aircraft landing on the runway shall observe a STANDARD LEFT HAND TRAFFIC PATTERN, flown at 1,000 ft AGL except as follows: Helicopters and Gyroplanes shall observe a STANDARD RIGHT HAND TRAFFIC PATTERN, flown at 500 ft AGL. For takeoff and landing on the center & north taxiway see #6.
It is recommended that landing/taxi lights be turned on for all take offs and landings.
No takeoffs shall be flown in a manner where a 180-degree turn is made for a return flight to the runway in the opposite direction of the takeoff.
Runway Light / SayWeather Activations – For weather information key radio mic four times and to turn on runway light key your mic five times. Runway lights will remain on for 15 minutes.
NIGHT OPERATIONS – Use, paved surface runway only.
For the purpose of checking wind direction, no aircraft shall cross the airport lower than their traffic pattern altitude.

With regard to Helicopter / Gyroplane operation:

Residents and their guests can, at their discretion and after careful consideration for the safety and noise to the residents, during day light operation, land and depart from taxiways with a helicopter, however in no such case shall a helicopter fly over any residence or property within Aero Acres. Gyroplanes shall use the runway for all takeoffs but may land on the taxiways.
Any helicopter using the center taxiway for departure shall not cross the runway or extended runway centerline within one half mile of the airport.
Rotorcraft landing on the north taxiway shall keep their pattern in close (1/4 mile) at 500 ft and remain north of the airport.
All rotorcraft training activity will be restricted to the runway & right-hand traffic.

The use of the airport shall be restricted to residents, lot owners, their immediate families and invited guests. Residents and lot owners shall be responsible to advise their invited guests of these taxiway and/or runway guidelines.
At all times, be aware of low flying agricultural aircraft working in the vicinity of Aero Acres.Agriculture aircraft are based in the vicinity of Aero Acres and often pass over Aero Acres at 500 ft or lower AGL when traversing the area. Additionally, there are a number of flight school airplanes in the vicinity that use our airport for emergency procedure practice. They typically do not monitor 122.9.
Use caution for mowers and other equipment that are frequently on airport property.